In the third and final blog post of this series, I will conclude my summary and discussion of the current 2017 Family Part Rule Amendments, including those of more general application.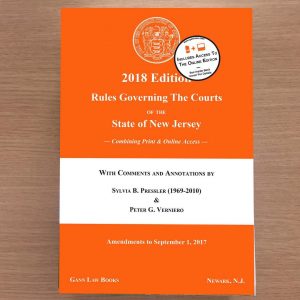 The cases of R.K.v.D.L., 434 N.J. Super. 113 (App. Div.2014) and Major v. Maguire, 224 N.J. 1(2016) highlighted the administrative and procedural problems in the filing and handling of non-dissolution family actions, particularly those which were complex in nature. In response to these cases, Rule 5:4-2(i) was previously amended not only providing for the filing of non-dissolution complaints utilizing forms promulgated by the Administrative Director of the Court, but permitting attorneys to file their own drafted "non-conforming" complaints, as long as those complaints also had appended thereto a completed supplemental form promulgated by the Administrative Director of the Courts. In this cycle, Rule 1:5-6(c)(1)(C) was amended to make clear that in the event non-dissolution complaints were not filed on and/or with the appropriate forms as promulgated, same would be returned stamped "received but not filed (date)" with notice that if conforming papers were filed within a designated time frame, filing would be deemed to have been made on the stamped receipt date.
Rule 1:11-2 governing the Withdrawal or Substitution of Counsel was amended to add a new subsection (c) providing that where an attorney is seeking to appear representing a client who had previously appeared pro se, the attorney must file a Notice of Appearance, and not a Substitution of Attorney, and pay the appropriate Notice of Appearance fee. It should be noted that counties are also requiring new attorneys to file a Notice of Appearance in post-judgment family actions if they had not previously appeared as attorney of record in the matter.