In my last blog post I summarized some of the recent Court Rule amendments that went into effect this September. While there were only a limited number of changes in the Part V Rules affecting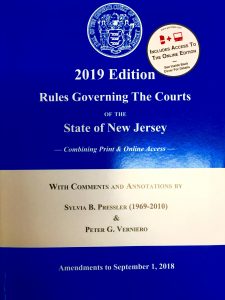 Family Part practice, I noted that there were amendments made in other sections of the Rules which had a direct or indirect impact upon Family Part practice in some fashion. In this blog post, I will discuss one of the more significant changes – those relating to actions to change the name of an adult and/or minor under Rule 4:72.
Several years back I wrote a blog post "What's In A Name" in which I highlighted some of the practical and procedural considerations involved in effectuating a name change incident to a divorce. While at common law, any adult or emancipated person was at liberty to adopt any name as his or her legal name except for fraudulent or criminal purposes without resort to any court, if someone wished to change their name, that person was required to institute an action in "Superior Court" under N.J.S.A. 2A:52-1, et seq. by the filing of a verified complaint accompanied by a sworn affidavit. Court Rule R.4:72-1, et seq. further detailed the procedures to be followed in actions for a name change. However, neither the statute nor the rule specified which division or part of the "Superior Court" such name change actions were to be filed and heard, except for actions seeking a name change for a minor who was the subject of a pending family action or one concluded in the preceding three years, and in which case they were to be transferred to the Family Part in the vicinage in which that family action was pending or was concluded.
Consistent with the theme of most of the recent Rule amendments to delineate and clarify which Division or Part certain types of actions should be filed and heard, R. 4:72-1, et seq. has been substantially amended to address where such name change actions should be filed and heard. Further, the changes to this Rule also address the procedures relating to requests for a change of name incident to divorce which were silent in both N.J.S.A. 2A:52-1 and the prior versions of R. 4:72. Finally, the procedures governing the name change of minors were substantially modified as well.