On September 20, 2016, the Internet was buzzing with reports of Angelina Jolie-Pitt filing for divorce from her long time partner of twelve years and husband of two years, Brad Pitt. The demise of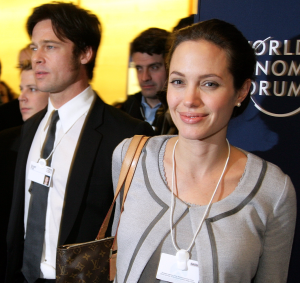 Angelina Jolie-Pitt's and Brad Pitt's two year marriage raises questions about the division of their assets in divorce. "The couple have six children together–and more than half a billion dollars worth in cumulative earnings," according to Forbes.com. "Since their marriage in 2014, the duo have earned a combined $117.5 million before taxes and fees, per Forbes' estimates. Pitt made the bulk of that cash, with some $76.5 million banked–nearly double Angelina's take home in that period." The pair have been together since 2004. During that time Brad Pitt earned an estimated $315.5 million pretax, according to  Forbes.
Jolie and Pitt's relationship began in 2004, a decade before their marriage in 2014. At the time, Jolie had an adopted son, Maddox and, while dating Pitt, she adopted a daughter, Zahara. Pitt later legally adopted Maddox and Zahara. In May 2006, Jolie and Pitt had their first child together, daughter Shiloh. In 2007, they adopted a son, Pax. In 2008, twins Knox and Vivienne were born. Seven years and six children later, Pitt proposed in 2012, and they were married in 2014.
Given that the parties were in a relationship for twelve years but married for two years, the question becomes what will happen with their estate in the divorce? This is not an unusual circumstance. Many couples are now living in a relationship akin to marriage for many years prior to marrying. While it is unknown if they have a prenuptial or a post-nuptial agreement, in New Jersey, the initial inquiry when addressing property division in a divorce is on the classification of property as marital or premarital. The court is authorized to distribute equitably ". . . the property, both real and personal, which was legally and beneficially acquired by them (the spouses) or either of them during the marriage. However, all such property, real, personal or otherwise, legally or beneficially acquired during the marriage or civil union by either party by way of gift, devise, or intestate succession shall not be subject to equitable distribution, except that inter-spousal gifts or gifts between partners in a civil union couple shall be subject to equitable distribution. N.J.S.A. § 2A:34-23(h). In the case of the Jolie/Pitts, this means that only property acquired during their two year marriage, not their entire twelve year relationship, would be subject to equitable distribution pursuant to N.J.S.A. § 2A:34-23(h).