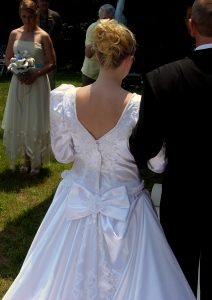 Marriage is not as popular as it once was.  Based on 2011 data available to the Pew Research Center, barely half of all adults in the United States were married, which was a record low.  In 1960, 72% of all adults ages 18 and older were married.  Contrast that with 2011, where only 51% of adults aged and 18 older were married.  In addition to higher incidences of divorce and cohabitation  in this century, as compared to 1960, another significant reason for the decline in the overall number of married adults, is that people do not marry as young now as they did in 1960.   More people wait until they are older to get married.  In 2011, just 20% of adults in the United States between the ages 18 to 29 were married, compared with 59% in 1960, according to the same research by the Pew Research Center. In 2011, the average age for first-time brides was 26.5 years, and for first time grooms the average age was 28.7 years.
Generally, the age at which persons in the United States can get married without parental consent or a judicial order is 18 (In Mississippi, a person has to be 21 to marry without parental consent).  The states do, however, have loopholes allowing minors under the age of 18 to marry. Only half of the states, however, have NO minimum age at which a child can be married.  According to Reuters, about 170,000 minors were married between 2000 and 2010 in 38 of the 50 states where data was available.
Currently, the minimum age to enter into a marriage or civil union in New Jersey is 18.  As other states do, New Jersey has exceptions wherein a minor can still marry.   Minors who are 16 or 17 can marry if they have parental consent.  Minors below the age of 16 can marry if they have the permission of a judge.  A judge can allow a minor of any age to marry; there is no absolute bar on a child of any age being permitted to marry.  One would hope that a court would not allow a literal child to marry, but in other states, children have indeed been given permission to marry.   According to the New Jersey based nonprofit group "Unchained at Last",  3,499 minors (90% of whom were girls) were married between 1995 and 2012, including 178 who were younger than 15 years old.  New Jersey also has no statutory particular criteria or factors in its statute for a family court judge to assess in determining whether a minor should be permitted to marry.