On March 14, 2017, the Appellate Division issued a published opinion in the matter of R.G. v. R.G. (A-0945-15T3)  in which the Appellate Division addressed the applicability of New Jersey's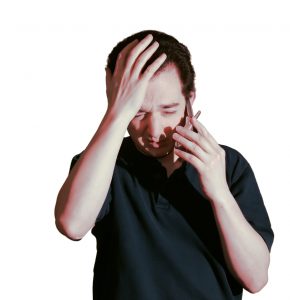 Prevention of Domestic Violence Act to protect a man seeking a domestic violence retraining order against his brother.
The men in this case had a dispute over the appropriate care to provide for their elderly parents.   Defendant had been living in New York for the past 36 years, leaving most of the responsibility for the care for their parents to Plaintiff.  Plaintiff was named attorney-in-fact to handle his parents' financial affairs, and he was authorized to make decisions as to his parents' care and treatment.   After their mother became ill in 2015, Plaintiff placed her in a nursing home, away from her home and her husband.  Defendant, however, objected to this decision, wanting his parents to be cared for together at home or for their parents to both be placed in a facility together. He complained that their mother was left in a wheelchair, and not encouraged to be more mobile, and that their father was not told that his wife was never returning home.  He accused Plaintiff of ignoring his calls and of trying to keep him from their father.  Defendant looked in to alternate arrangements for their parents, but Plaintiff was not receptive, telling Defendant that the decision had been made and their mother permanently placed.
Defendant expressed strong disgust over a series of text messages and emails.  He told Plaintiff of his hope that Plaintiff suffered in old age.  Defendant sent messages and emails that were "crude, defensive, and angry", and used language described as "coarse, bitter language and name calling".   Plaintiff was called names such as "pompous a**hole" and "a**wipe".   Defendant wrote: "What do you think that I am not going to take care of him [their father] while he's with me. Your email sounds like you are lecturing me and telling me how to take care of him. You righteous prick. You and your wife always seem to have a better life chip on your shoulders and that your sh** didn't stink. Your sh** smells like mine, you a**hole. You are the last one who should be lecturing, you drunk bastard.  Stop the bullsh** . . . ".    Defendant also wrote: "I will tear our family apart. . . . I will break you financially, morally, physically and mentally".  He wrote "I love to harass you since you cannot speak like a man, stand up to your brother and discuss this. It'll get worse and worse".  He wrote" I will come down there real soon".  He wrote "I feel like coming to you and slapping you silly".
Their dispute turned physical in September, 2015.   They had a verbal shouting match at their mother's nursing home during which Plaintiff claimed that Defendant "repeatedly held an open hand like 'a slap' right next to plaintiff's face, or held his hand in a fist as if he were going to hit" plaintiff.  Hearing a shouting match, the nurses asked the parties to leave.   After Defendant followed Plaintiff outside, their argument continued.  According to Defendant, Defendant shoved Plaintiff six times, and knocked him over twice. The police charged Defendant with simple assault.
At the hearing, Plaintiff testified before the trial court that he interpreted Defendant's messages as threats and claimed to fear for his safety.  There was no history of domestic violence between the brothers.  The parties had a good relationship until their mother's illness in 2015.  Plaintiff did, however, testify about a restraining order that Defendant's son had obtained against Defendant two years earlier.
Defendant's testimony seemed to focus on his frustration and anger about how his siblings would not consider his alternate plans for the care of his parents that would have allowed his parents to stay together.  He felt that Plaintiff acted in his own best interest, not their parents' interest, and that Plaintiff was not honest with their parents.   Defendant believed that Plaintiff  "poo pooed' his ideas and rejected even "small things" that could have made their mother's surroundings more comfortable.  He noted that Plaintiff did not show the court his own text messages and emails, which goaded Defendant.   Defendant expressed frustration because Plaintiff would not discuss their parents' problems and instead communicated by text message.
Defendant admitted to shoving Plaintiff but only once, in that September, 2015 altercation.  He admitted to being "very angry" at that time, but pointed out that Plaintiff was also angry, and that Plaintiff provoked Defendant and was not fearful, noting that Plaintiff followed Defendant, when Defendant was trying to walk away.   He did not deny that his son had obtained a restraining order against him years earlier, but said that it was due to expire, and that he had not injured his son.  He had no attorney and, therefore, did not object to the court's consideration of this restraining order.
The trial court first addressed jurisdiction and concluded that it had jurisdiction under the domestic violence statute even though the brothers had not lived together for more than 30 years.  The trial court also concluded that Defendant had committed the predicate acts of harassment and assault, and that a final restraining order was warranted even though Plaintiff's immediate danger was "not self-evident".  There was no history of domestic violence between the parties, but the trial court relied on the restraining order obtained against Defendant by his son two years prior as evidence of prior history of domestic violence, and reasoned that Defendant made escalating threats that resulted in physical violence.
The Appellate Division reversed the entry of the final restraining order.
As to Defendant's challenge to jurisdiction, the Appellate Division noted that the domestic violence statute had been revised to expand the definition of a "victim" of domestic violence to include a person " The Appellate Division found that the trial court did have jurisdiction, but reversed the trial court's entry of a final domestic violence restraining order.
As to the jurisdiction issue, the Appellate Division found that the recent amendment to the domestic violence statute, which expanded the definition of a victim of domestic violence as a person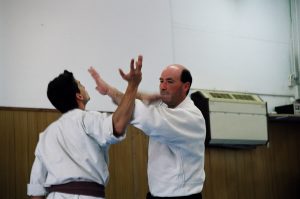 "who has been subjected to domestic violence by . . . any person who is a present or former household member".
Even though Defendant did not object to the trial judge's consideration of the restraining order obtained by Defendant's son, the Appellate Division found that the error was a plain error and reversible.  The domestic violence statute permits the introduction of previous history of domestic violence between "plaintiff and defendant", not evidence of disputes that Defendant had with someone else. Also, relying on Rules of Evidence, N.J.R.E. 404, courts cannot evidence of other wrongs by a litigant to prove a "the disposition of a person", nor to show that a person "acted in conformity therewith."  A court can use evidence of other wrongs if it shows "proof of motive, opportunity, intent, preparation, plan, knowledge, identity or absence of mistake or accident" when those matters are relevant.   The trial court, however, considered this third party's restraining order as nothing more than proof of Defendant's bad character and did no analysis under State v. Cofield, 127 N.J. 328 (1992) as to admissibility of evidence of other crimes or wrong-doings.  To make matters worse, the Appellate Division noted that Plaintiff's testimony about this third party's restraining order was not based on the Plaintiff's personal knowledge, merely inadmissible hearsay about what others told him.
The Appellate Division found that there was a basis for the trial court to conclude that Defendant committed the predicate act of assault by shoving Plaintiff.   The appellate court reversed the finding that Defendant committed the predicate act of harassment.  The Appellate Division found that the Defendant's mode of speech was coarse, inappropriate, vulgar, offensive, insulting and juvenile.  However, such speech is not in and of itself domestic violence.   Though Plaintiff said he felt harassed, the court must find that the Defendant had an intent to harass.  There has to be evidence of a defendant's improper purpose, not merely a subjective reaction of a plaintiff.
The Appellate Division found that this was a "domestic contretemps".  The parties had differing views on how to care for the parents, resulting in a situation that was "emotional and highly stressful" for both of them.   Defendant's speech was inappropriate, but there was no intent to harass Plaintiff. Vulgar name calling is insufficient for a finding of domestic violence.  Courts have to distinguish between ordinary disputes and disagreements between family members, where anger is expressed, and where behavior crosses a line into domestic violence.  The Appellate Division found it important to note that Defendant was not the one who initiated email and text message exchanges.  The Court noted that the record had omitted and/or redacted text messages and emails sent from Plaintiff to Defendant, and that there was no communication in the record from Plaintiff asking Defendant to stop his behavior.  Considering the context of Defendant's communications to Plaintiff, the Appellate Division inferred not an intent to harass, but the intent to convey concern for his parents, frustration that his calls were being ignored, that his suggestions were not considered, and that he was being isolated by Plaintiff form their father.  The Appellate Division pointed out that the domestic violence statute is not designed to prevent unpleasant exchanges between family members or to use as a sword against every unpleasant encounter between family or household members.
Despite finding that Defendant had committed an act of assault, the Appellate Division nonetheless reversed the entry of a final restraining order.  Commission of a predicate act alone does not automatically warrant the issuance of a final restraining order.  Rather, the court has to find that a victim is in immediate danger from the defendant or that a defendant is in need of a restraining order to prevent further abuse.  The Appellate Division reasoned that the defendant's conduct must be "imbued by a desire to abuse or control the victim".  While Plaintiff testified that he was fearful of the Defendant, the Appellate Division noted that these were one-word answers to leading questions from Plaintiff's attorney.  The Appellate Division found that the dispute in September, 2015 at the nursing home was "mutual", and that Plaintiff following Defendant outside after Defendant walked away indicated Plaintiff's lack of fear of Defendant.
This case underscores the fact sensitive nature of domestic violence applications, and the applicability of facts properly to the law.  In such cases, the law office of James P. Yudes, P.C. may be of assistance to you.