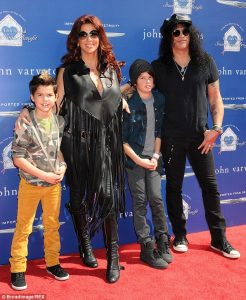 I was recently perusing a periodical and came across a story about a celebrity musician who was claiming he was never married to his wife of 15 years because of a known snafu in her earlier divorce paperwork. The headline stated "Slash claims he was never married to wife of 15 years". (http://www.metro.us/entertainment/slash-claims-he-was-never-married-to-wife-of-15-years/zsJpjE—wsgif5AIi7dW6/). For those of you who don't know, Slash, who's legal name Saul Hudson (which better calls to mind the fictional character Saul Goodman of "Breaking Bad" and "Better Call Saul"),  is the prolific lead guitarist of the recently reformed rock group Guns N' Roses.  I thought it would be interesting to look at how the law in New Jersey would apply to his aggressive "slash and burn" litigation tactic.
Pursuant to New Jersey statute N.J.S.A. 2A:34-23, property acquired during the course of a marriage is subject to equitable distribution in a divorce.  To the extent to which a party to a divorce claims that an asset is exempt from equitable distribution, the burden of proving that immunity rests upon the spouse who asserts it. Painter v. Painter, 65 N.J. 196, 214 (1974; Valentino v. Valentino, 309 N.J. Super 334, 338 (App. Div. 1998); Wasserman v. Schwartz, 361 N.J. Super 399, 411 (Law Div. 2001).  If that party fails to prove that an asset is immune from equitable distribution, that property will be classified as a marital asset subject to division. Landwehr v. Landwehr, 111 N.J. 491, 504 (1988).  The Painter court recognized that the equitable distribution statute should be construed to recognize the public policy that marriage is a shared enterprise, a joint undertaking and that it is akin to a partnership. Painter, quoting Smith v. Smith, 72 N.J. 350, 361 (1974).
Slash's arguments would implicate both the law of divorces and of annulments. In the New Jersey Appellate Division case of Heuer v. Heuer, 152 N.J. 226 (1998), the Court took up the questions surrounding equitable distribution when the validity of the subject marriage is in question.  The Court in Heuer noted that: "Irrespective of the factual context in which the issue may  arise, the last of two or more marriages is presumptively valid. The presumption of validity may be overcome only by and convincing evidence that (1) there was a prior marriage, (2) the prior marriage was valid, and (3) the prior marriage was not terminated by death or divorce before the latest marriage." Heuer, citing Newburgh v. Arrigo, 88 N.J. 529, 538, (1982). Notwithstanding the aforementioned statements, the Appellate Division found: "Although we agree that defendant's evidence is sufficient to rebut the presumption of validity, that conclusion is not dispositive of whether he is entitled to a judgment of nullity. Newburgh expressly recognized that the presumption of validity of a prior marriage and the doctrine of estoppel stem from a common source. As we said in Newburgh:  'The related presumption in favor of the validity of prior divorces is akin to estoppel to deny the validity of a prior  divorce.' Kazin v. Kazin, supra, 81 N.J. at 96 [405 A.2d 360].  Both principles recognize the reality of the increasing rate of divorce and remarriage. The law no longer insists on confining people in the grave of a dead marriage. Id. at 98    [405 A.2d 360]. Modern matrimonial law has relaxed the  requirement for divorce and granted greater freedom to individuals in the pursuit of marital happiness. Id. at 234-35, citing Newburgh, supra, 88 N.J. at 538.
The Court in analyzing whether or not to apply equitable remedies found that "Principles of equity must be applied in light of the totality of the circumstance." In further support of that principle, the Court cited to Justice Handler's concurring opinion in the Newburgh case that states, "Fairness and equity may demand that, after the passage of so many years and the absence of any showing of knowingly wrongful conduct on the procuring party's part, such long-settled matters should now be beyond attack." Newburgh, supra, 88 N.J. at 550–51.
The court found that the plaintiff was entitled to a presumption that she would not willingly commit bigamy, a violation of N.J.S.A. 2A:92–1, repealed and replaced by N.J.S.A. 2C:24–1, or illegitimatize her children, Sparks v. Ross, 72 N.J. Eq. 762, 765, 65 A. 977 (Ch.Div.1907), aff'd, 75 N.J. Eq. 550, 552(E & A 1909). The Court ultimately determined that, ". . . in a case such as this, claims for alimony and equitable distribution must of necessity be decided based on the facts and principles of equity." Id. at 236.  For example, the court found that the "standard for determining the legal effect of a successful attack on an ancient divorce should also be resolved by application of equitable principles that focus on the actual conduct of the parties. We believe that approach is conducive toward reaching the fair, sound, and correct disposition. Consequently, we adopt the equitable doctrine of estoppel to determine the legal effect of a successful attack on an ancient divorce. In all other respects, we reaffirm Newburgh." Id.
The court utilized the doctrine of equitable estoppel. Equitable estoppel has been defined as "the effect of the voluntary conduct of a party whereby he is absolutely precluded, both at law and in equity, from asserting rights which might perhaps have otherwise existed … as against another person, who has in good faith relied upon such conduct, and has been led thereby to change his position for the worse…." Highway Trailer Co. v. Donna Motor Lines, Inc., 46 N.J. 442, 449 (1966)(quoting 3 Pomeroy's Equity Jurisprudence § 804 (5th ed.1941)). The doctrine is "designed to prevent a party's disavowal of previous conduct if such repudiation 'would not be responsive to the demands of justice and good conscience'." Carlsen v. Masters, Mates & Pilots Pension Plan Trust, 80 N.J. 334, 339, 403 A.2d 880 (1979) (quoting West Jersey Title, etc. Co. v. Industrial Trust Co., 27 N.J. 144, 153, 141 A.2d 782 (1958)).
The court also can apply the doctrine of unclean hands may with estoppel to help ensure justice and to protect the integrity of the courts. Untermann v. Untermann, 19 N.J. 507, 517, 117 (1955). It stands for the equitable maxim that "[a party] who comes into equity must be with clean hands." However, the court has stated that the doctrine "does not repel all sinners from courts of equity, nor does it apply to every unconscientious act or inequitable conduct on the part of the complainants. The inequity which deprives a suitor of a right to justice in a court of equity is not general iniquitous conduct unconnected with the act of the defendant which the complaining party states as his ground or cause of action; but it must be evil practice or wrong conduct in the particular matter or transaction in respect to which judicial protection or redress is sought." Neubeck v. Neubeck, 94 N.J.Eq. 167, 170, (E & A 1922).
The court concluded that there was "no basis to apply the maxim to plaintiff. She acted in good faith when she sought an Alabama divorce, when she married defendant, and when she consented to his adoption of her daughter. Defendant's assertion that his marriage to plaintiff is invalid is totally inconsistent with cohabiting together as husband and wife for an extended period. He seeks to injure plaintiff by depriving her of alimony and equitable distribution under the statutory scheme set forth at N.J.S.A. 2A:34–23. As the Court observed in Newburgh, '[u]nder certain circumstances, one who enters into and accepts the benefits of a marriage may be equitably estopped' from later denying its validity. Newburgh, supra, 88 N.J. at 539. This is a case in which quasi-estoppel applies, and it does not require proof that defendant somehow participated in the Alabama proceedings."  The court also noted that the defendant was aware of the prior divorce and lived as married people both symbolically and ceremoniously. The noted that: "Matrimonial suits … ought not be permitted to take on the aspects of a game wherein wits … and finesse prevail over elemental right and justice." Shepherd v. Ward, 5 N.J. 92, 111 (1950).
In conclusion, the court Heuer ruled: "In the eyes of the world, they were husband and wife financially, socially, and legally for purposes of alimony, equitable distribution, and marital torts." If Slash decides to shop for a friendly forum to hear his divorce case, I would suggest that he not do so in New Jersey.