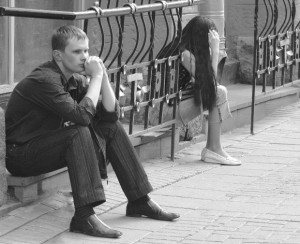 We often hear about palimony when celebrities are involved.   One early notorious palimony case was the palimony litigation between actor Lee Marvin and his paramour, Michelle Triolla, which was in litigation for several years in California after Ms. Triolla (who adopted the surname Marvin) contended that she cohabited with Mr. Marvin for a number of years and that Mr. Marvin promised to support her for life. She failed to succeed in her palimony claim because she was unable to demonstrate the existence of a contract between she and the actor.   Other celebrities have been sued for palimony by former paramours, including musician Liberace, athlete Martina Navratilova and comedian Bill Maher.  So, is palimony a cognizable claim in New Jersey?
When a marriage ends, New Jersey has statutes and case law governing alimony, which is a right of a dependent spouse to financial support upon a divorce.  But what occurs when a marriage like relationship ends and one partner to the relationship was promised support and is in need of support?  New Jersey is not a state that recognizes the existence of "common law" marriages.     In some instances, however, where there was an agreement for support to be paid upon the end of a marriage-like relationship, a promisee may make a claim for palimony.
Palimony is a claim for support between unmarried persons. It is essentially the enforcement of a  broken contract or agreement between partners in a marriage-like relationship to provide for future support should the relationship end.  Palimony cases have been tried in the family courts in New Jersey for over three decades.   There is, however, no statutory law providing for a right to palimony as there is with alimony.  Palimony is awarded based on the application of contract law.  In Kozlowski v. Kozlowski, 80 N.J. 378 (1979), the Supreme Court of New Jersey recognized that unmarried adult partners have the right to choose to cohabit together in a marriage-like relationship, and that if one of the partners is induced to do so by a promise of support given by the other, then that promise to support will be enforced.  There is no particular definition of what constitutes a marital-type relationship.  While cohabitation is a relevant factor, the absence of cohabitation does not disqualify a person from palimony if the entirety of the relationship leads to the finding that the parties are in a marital type relationship. Bayne v. Johnson, 40 N.J. Super. 125, 139 (App. Div. 2008). 
Oral contracts may be enforceable and, therefore, the Supreme Court would apply contract law to palimony agreements and allowed oral contracts for support between participants in a marriage like relationship to be enforced.   The Supreme Court of New Jersey reasoned that palimony agreements are often oral because the parties in these kinds of relationships typically do not reduce their agreements to writing, do not commonly use specific legal terms, such promises for support are not usually made in the presence of witnesses, and such promises for support are often denied by the alleged promisor after the relationship ends.  Estate of Roccamonte, 174 N.J. 381, 389 (2002); Devaney v. L'Esperance, 195 N.J. 247, 263 (2008)(J. Long, concurring).   Therefore, oral palimony agreements were enforceable if one could prove that the agreement  existed.  Complicating matters is the fact that agreements may be implied and still be enforceable.  An express agreement occurs when the agreement is manifested by written or spoken words, while an implied contract is one that is manifested by other conduct.  Consequently, the existence of a contract and its terms are determinable not by just what was said but primarily by the parties' acts and conduct in light of the surrounding circumstances.   Thus, the Supreme Court of New Jersey has held that "a general promise of support for life, broadly expressed, made by one party to the other with some form of consideration given by the other will suffice to forma contract.  and if such a promise of support for the promise's lifetime is found to have been broken, the court will construe and enforce it by awarding the promise 'a one-time lump sum . . . in an amount predicated upon the present value of the reasonable future support defendant promised to provide, to be compute by reference to [the promise's] life expectancy."  Kozlowski v. Kozlowski, 80 N.J. 378 (1979).  In addition to the foregoing, a palimony claimant needed to show economic inequality such that the promise is not self-sufficient enough to provide for him/herself with a reasonable degree of economic comfort appropriate in the circumstances. Estate of  Roccamonte, 174 N.J. at 393.
In 2010, the Legislature addressed the proof difficulties with regard to palimony agreements by amending the "statute of frauds", N.J.S.A. 25:1-5(h), to require that palimony agreements be written, and that such written promises are not binding unless they were made with the independent advice of counsel for both parties.  Consequently, effective January, 2010 palimony agreements must be expressly written, not oral.  The Appellate Division, however, in 2011 held that this amendment was not retroactive and was accorded prospective application  based on the view that the parties' expectations are generally those that they had at the time of the agreement.   Botis v. Estate of Kudrick, 421 N.J. Super. 107, 120 (App.Div. 2011).   In Maeker v. Ross, 430 N.J. Super. 79 (App. Div. 2013), the Appellate Division again addressed whether the amendment to the Statute of Frauds requiring that palimony agreements be written and that the parties each have independent counsel was retroactive. In Maeker, the plaintiff claimed that she had an oral agreement with the defendant for him to support her for life. She claimed that her cause of action arose before the effective date of the amendment ot the Statute of Frauds based on the view that the cause of action for accrued when the palimony agreement was entered into, which was prior to the amendment of the Statute.  The Appellate Division disagreed. The Appellate Division held that the Amendment to the Statute of Frauds is enforcement legislation that addresses under what circumstances a claimed breach of a palimony agreement may be enforced irrespective of when the purported agreement was entered.   Plaintiff and Defendnat were still together in January, 2010 when the statute was amended and thus they could have memorialized any alleged oral agreement for support in writing and comply with the statute.  Consequently, the Appellate Division is significant to the issue of palimony because even oral agreements for support entered into prior to the modification of the Statute of Frauds must be reduced to a written agreement and each party to the agreement must be advised by independent counsel in order for that agreement on alimony to be enforceable.