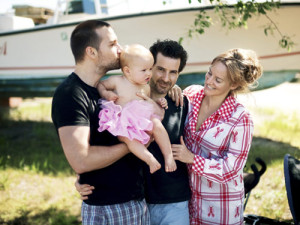 In a recently published decision, D.G. and S.H. v. K.S., FD-1386-14S, the Honorable Stephanie M. Wauters, J.S.C., issued what could prove to be a groundbreaking decision as the definition of family continues to develop and evolve with the ever changing times.  The original ninety-six page decision decision was abridged to twenty-two pages for the published decision in this matter. In this particular case, the Court was presented with a situation the litigants creatively referred to as a "tri-parenting" relationship, wherein three friends agreed to conceive, raise and take care of a child, O.S.H., together as one unit in two households.  K.S., the biological mother of the child, approached her gay best friend D.G., the biological father of the child, and his husband, S.H., about this proposed arrangement.  What began simply as friends joking around, quickly evolved into a realistic and serious proposition that was ultimately accepted by the parties.  Upon agreeing to move forward, the parties utilized D.G.'s sperm, K.S.'s egg, and utilized the "baster method," to conceive the child.  The parties also agreed to utilize S.H.'s surname as the child's surname.  The parties coined their newly found paradigm as a "tri-parenting relationship" which ultimately got featured and gained notoriety in major magazines and on a television talk show.
After the child was born in 2009, the parties cooperated together effectively and efficiently to attend her general health, education, and welfare equally, with K.S. serving as the primary caregiver due to her unemployed status.  D.G. owned his own business and had flexible hours to make himself available as needed, and S.H. was a schoolteacher that had a set daily schedule and long bouts of free time during various school recesses.  For approximately four (4) years the parties worked seamlessly together and without major issue to raise and care for the child.  Included in the child's early development were frequent, extended vacation's to K.S.'s vacation home in Costa Rica, where she went to get "off the grid" and otherwise relax, primarily during the winter months.  Plaintiffs always agreed to those vacations where they would go extended periods without seeing K.S. or O.S.H.
It was upon K.S.'s return from one of those vacation where the trouble started brewing.  Apparently, K.S. met A.A., who resides in California, and they fell in love while together in Costa Rica.  Accordingly, K.S. ultimately revealed to the Plaintiffs that she intended to marry A.A. and move with O.S.H. to California.   The Plaintiffs objected and ultimately the case was brought to the Court for litigation.  After preliminary matters, including an Order to Show Cause and motion practice, the child was temporarily placed in the residential custody of the Plaintiffs, and not allowed to move to California on an interim basis prior to the ultimate decision.  Ultimately, the Court was asked to analyze and rule on the following issues: (1) S.H. as a psychological parent of O.S.H.; (2) legal and residential custody of O.S.H.; (3) K.S.'s removal and relocation application; (4) parenting time for each party with O.S.H.; (5) S.H. as a legal parent of O.S.H.; (6) child support and other related issues; and (7) counsel fees.  The primary focus and analysis of these particular decisions centered around the second issue, legal and residential custody of the child.
Ultimately, the parties stipulated to S.H. being designated as a psychological parent to O.S.H., however, the Court still analyzed the requirements thereof and ruled independently that S.H. met the qualifications set forth in V.C. v. M.J.B., 163 N.J. 200 (2000). The four elements of psychological parenthood that the New Jersey Supreme Court requires be established are as follows: (1) that the biological or adoptive parent consented to, and fostered, the petitioner's formation and establishment of a parent-like relationship between the third party and the child;  (2) that the petitioner and the child lived together in the same household; (3) that the petitioner assumed the obligations of parenthood by taking significant responsibility for the child's care, education and development, including contributing toward the child's support (whether monetary or not), without expectation of financial compensation; and (4) that the petitioner has been in a parental role for a length of time sufficient to have established with the child a bonded, dependent relationship parental in nature.  The Court in D.G. and S.H. v. K.S., further notes that "Once a third party has been determined to be a psychological parent to a child, he or she stands in parity with the legal parent."  Accordingly, S.H. was appropriately determined to be a psychological parent to O.S.H.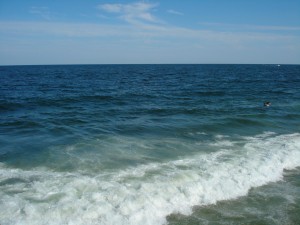 However, despite declaring S.H. a psychological parent to O.S.H., and reciting the numerous contributions he made to the child's care and development, the Court determined that it was unable, due to lack of authority, to declare S.H. a legal parent to O.S.H. The Court opined that there were only three ways to become a legal parent: genetic contribution; gestational primacy; or adoption.  None of those options were applicable to S.H. and, therefore, as a matter of law could not be considered a legal parent under the current construction of New Jersey law.
The Court ultimately determined that no child support or counsel fees would be owed by the parties, or in other words, everyone would pay their own way and support the child financially during their respective parenting time.  Based upon the Court's decision with regards to custody and parenting time, which will be discussed more fully below, K.S.'s removal and relocation application was denied, and the child was ordered to remain in New Jersey.  The Court determined that the joint legal and equal residential custody awards were in the child's best interests. In addition, the Court noted that the plans presented by K.S. to move to California were speculative, shaky, and even contradictory at times during her testimony.
The ultimate decision made as to custody parenting time can be described as follows: (1) all three parties were granted joint legal custody of O.S.H.; (2) all three parties were granted equal residential custody of O.S.H.; and (3) the Plaintiffs were designated as the parents of primary residence so that O.S.H. could attend the school in Princeton where S.H. taught.   In addition to designating the Plaintiffs as the parents of primary residence, the Court held that during the school year O.S.H. would reside with the Plaintiffs during the week and K.S. during the weekend.  During school recesses, K.S. would be given a disproportionate amount of the time to make up for the time lost during the school year so as to attempt to equally balance the amount of parenting each party received.
It will certainly be interesting to see how this particular case evolves as the child grows older and the issues become more plentiful, such as private schooling, medical expenses, religious training, college education, driving expenses, etc.  Obviously it will be in everyone's best interests to work together and resolve those issues as they present themselves without further court involvement, but that may not be avoidable.  What will be even more interesting to follow is how this effects other family law decisions going forward and whether or not this will become a growing trend in the ever evolving definition of what constitutes a family.  As always, the attorneys here at James P. Yudes, P.C. are at the forefront of this ever changing landscape of family law and therefore willing and able to assist with any family law questions you may have.