If only for a sliver of time, a joyous occasion made everyone in the world forget all of its trials and tribulations. North Korea, Gaza, the Mueller investigation, MS13 – mere distractions. A divided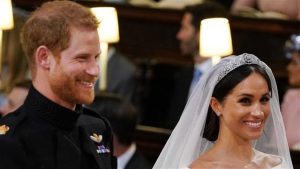 nation, a divided world came together as one to witness the Royal Wedding between Price Harry and Meghan Markle to share in the magic, the pageantry, their unbridled love. Questions like whether there was Russian collusion or if Iran has nukes were insignificant when compared to what kind of wedding gown would Meghan be wearing, who was on the guest list, or what color pocketbook would the Queen be carrying. What else would be important enough to get me up at 4am on a Saturday morning? As I am still basking in the afterglow (i.e. hangover) of the Royal Wedding festivities, the family lawyer in me caused me to ponder some important (although many would say crass and heartless) questions. What is the likelihood that Harry and Meghan will live happily ever after? Did they sign a pre-nup in the tragic event they do not?
Historically, divorce was frowned upon when it came to members of the Royal Family. King Henry VIII went so far as to break away from the Catholic Church and turn to beheadings to rid himself of unsuitable wives. The Church of England's opposition to divorce among Royals necessitated an Act of Parliament in order for couples to formally divorce. Even after divorce became legal, it was not until the middle of the 20th century that divorce became an accepted reality, and its stigma lessened – mirroring to a larger extent the attitudes toward divorce in this country. The divorce rate in England is similar to that of the United States; however, if the track record of the Royal Family is any guide, the likelihood of Harry and Meghan's marriage enduring is not very positive. Just look at Queen Elizabeth's children: Princess Anne – divorced; Prince Charles – divorced; Prince Andrew – divorced. Are there reasons for this – living in a fishbowl; having to conform strict rules and norms; maintaining the jet-set lifestyle? While most of us will never experience these things, their impact upon a relationship and marriage must be significant. Just ask the late Princess Diana. Furthermore, while this is the first time down the aisle for Prince Harry, Meghan Markle's prior marriage ended in divorce, and statistically, the divorce rate for second marriages is higher than for firsts.
However, after seeing the true love which clearly exists between Harry and Meghan, I am confident that theirs will be a marriage that endures, and I hope that it does. However, I offer to make myself available pro hac vice to provide my services if, God forbid, it does not.
Given that Ms. Markle was not only a commoner, but an American, a divorcee and an actress to boot, certainly the Royal Family would have insisted that she sign a prenuptial agreement before being allowed to marry Prince Harry. The legal cynic within me believes that the Royals would insist on protecting its vast family fortune from the possibility that Ms. Markle was a gold-digger – simply marrying poor Harry for fame and fortune. To my shock and surprise, the answer was NO – there was no prenuptial agreement signed before they said "I do", nor was she even asked to do so. How could this possibly be?
First and foremost, the use of prenuptial agreements is not common practice in the United Kingdom. Even if they were entered into, while a Court might consider same if presented during a divorce case, they have not been deemed legally enforceable. Whether for this reason or not, prenuptial agreements have not been entered into within the Royal Family either. Notwithstanding the recent spate of failed Royal marriages, none of Queen Elizabeth's children had pre-nups; nor have any of her grandchildren, including most recently, William and Kate. Further, the nature of the Royal wealth is such that it is generally viewed so as to not need the protections prenuptial agreements supposedly offer. Much of this wealth constitutes inheritances, is tied up in trusts, or is otherwise insulated from claims. In this instance, much of Harry's individual wealth comes from an inheritance from his mother, Princess Diana. Meghan already purportedly has a significant net-worth of her own from her pre-marital endeavors. Harry was reportedly opposed to even considering one. Further, past history reflected that even when these Royal marriages fail, these matters get resolved in "private" – not only so that their financial affairs are kept confidential, but to minimize any negative PR. A far cry from the public divorce wars we see played out in this country.
I for one wish Harry and Meghan a long and happy marriage, but if things don't work out, the law firm of James P. Yudes, P.C. stands ready to joust.