One of the many rights litigants have is the right to be represented by counsel of their own choosing. Simple, right? Well, not really. An attorney of your choosing could be disqualified from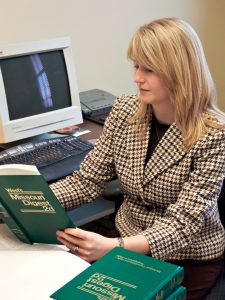 representing you if that attorney had participated in the matter prior to your representation and your adversary does not consent to the attorney representing you.  Additionally, an attorney could be disqualified from representing you if the attorney is likely to be a witness in the matter, under certain circumstances pursuant the Rules of Professional Conduct ("RPC").  Whether the RPC prevents an individual from being represented by an attorney of their own choosing is a fact sensitive matter.
RPC 1.12 states the following:
"(a) Except as stated in paragraph (d), a lawyer shall not represent anyone in connection with a matter in which the lawyer participated personally and substantially as a judge or other adjudicative officer or law clerk to such a person or as an arbitrator, mediator or other third-party neutral, unless all parties to the proceeding give informed consent, confirmed in writing.
(b) If a lawyer is disqualified by paragraph (a), no lawyer in a firm with which that lawyer is associated may knowingly undertake or continue representation in the matter unless:
(1) the disqualified lawyer is timely screened from any participation in the matter and is apportioned no part of the fee therefrom; and
(2) written notice is promptly given to the parties and any appropriate tribunal to enable them to ascertain compliance with the provisions of this rule."
An example of a situation which was governed by RPC 1.12 was the case decided by the Appellate Division on June 8, 2018 in the matter of Burkhardt v. Kastell, (A-2724-17T3).   In this case the parties entered into a Marital Settlement Agreement ("MSA") in 2011. In February 2016, the parties entered into a post-judgment consent order that modified the 2011 MSA's
parenting time provisions.  The law firm that represented Ms. Kastell during that proceeding was called The DeTommasso Law Group.  The parties went to a mediator, a solo practioner, to mediate financial disputes that arose as a result of their adjustment to parenting time.   After two months of mediation and "lengthy back and forth discussions", the parties voluntarily entered into a consent order which re-calibrated Mr. Burkhardt's child support obligation and modified other financial matters.
More than eighteen months later, an attorney from the DeTomasso law firm that represented Ms. Kastell wrote to Mr. Burkehardt's attorney to suggest mediating new issues that had arisen.  That letter revealed in its letterhead that the parties' mediator was now employed by the DeTomasso law firm.  When the DeTomasso law firm refused to disqualify itself from representing Ms. Kastell, Mr. Burkhardt filed a motion seeking the disqualification of the DeTomasso law firm from representing Ms. Kastell.   That application was granted by the trial court. The Appellate Division granted Ms. Kastell's motion for leave to pursue interlocutory appeal in order to determine if she was denied due process because she could not be represented by the attorney of her choice, and whether the trial court incorrectly applied RPC 1.12.
The Appellate Division reasoned that the mediator could not represent Ms. Kastell without Mr. Burkhardt's consent because he mediated the parties' earlier dispute. Did the mediator's inability to represent Ms. Kastell disqualify the entire firm from representing her?  The Appellate Division analyzed whether another attorney in the same firm could represent  her without violating RPC 1.12(b).  The Appellate Division reversed the trial court's decision to disqualify the DeTomasso firm.   The mediator's relationship with the firm was known to Mr. Burkhardt and his attorney.  The firm and mediator represented that the mediator would be screened from any participation or involvement in the matter, and that another attorney in the firm could represent Ms. Kastell.
Despite being aware of these facts, the trial court had disqualified the firm based on the view that such a wall would not provide Mr. Burkhardt with an adequate level of comfort. The Appellate Division, however, stated, "[A] party's 'discomfort' in an adversary's retention of a particular attorney was not pronounced in RPC 1.12 as a ground for disqualification. . . . . RPC 1.12 was not only crafted with a mind toward someone in [Mr. Burkhardt]'s position, but with the interests of someone in [Ms. Kastell]'s position as well. RPC 1.12 steers a course intended to protect both interests by insisting on the formation of a wall between the former mediator and the attorneys advocating on the client's behalf. All relevant concerns are fully vindicated by application of the rule's actual terms."
In addition to RPC 1.12, RPC 3.7 also addresses another circumstance in which an attorney may be prohibited from representing a client. RPC 3.7 states the following:
"A lawyer shall not act as advocate at a trial in which the lawyer is likely to be a necessary witness except where:
(1)the testimony relates to an uncontested issue;
(2)the testimony relates to the nature and value of legal services rendered in the case;
(3)disqualification of the lawyer would work substantial hardship on the client."
R.P.C. 3.7 authorizes disqualification of the client's attorney only where that attorney's trial testimony is "necessary" and "likely." A purpose of that limited remedy is to prevent unfairness to the opposing party. A mere representation of an intent to call the attorney as a witness at trial is not sufficient, in and of itself, to demonstrate such necessity and likelihood.  For purposes of RPC 3.7, a witness is truly "necessary" if there are no documents or other witnesses that can be used to introduce the relevant evidence.
A party seeking to disqualify an attorney has to show more than claim that a lawyer is a necessary witness.  The party seeking to disqualify has to demonstrate the likelihood that the attorney will be a necessary witness at trial, and if it is unclear from the record as to whether or not the attorney's testimony is actually necessary, the motion will be denied.  A motion for disqualification requires a court "to balance competing interests, weighing the `need to maintain the highest standards of the profession' against `a client's right to freely choose his [or her] counsel.'" Dewey v. R.J. Reynold's Tobacco Co., 109 N.J. 201, 218 (1988).  A person's right to retain an attorney of his or her choosing is limited in that "there is no right to demand to be represented by an attorney disqualified because of an ethical requirement.".  Id.
As can be seen,  the factual circumstances of when an attorney may be prohibited from representing a client is fact sensitive. The office of James P. Yudes, A Professional Corporation is here to help you navigate these treacherous waters.