Going through a divorce can be time consuming, expensive, and emotionally draining, among many other things. For this reason and more, many people try to rush the process and enter into an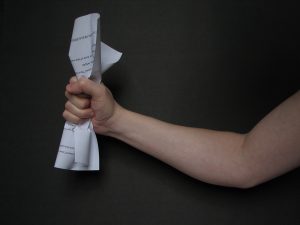 ill advised settlement agreement  on their own in order to obtain a quick divorce and move on with their lives sooner rather than later.  Conversely, other people prefer to stick their heads in the sand and do nothing when their spouse files a divorce complaint, which can lead to the entry of a default judgment of divorce by the court that is contrary to their best interest.  While taking either of these actions may work for some individuals, if such actions result in an unfavorable outcome, it can be costly and possibly difficult to correct, if they can be corrected at all.
Generally, Rule 4:50, which applies when a litigant is seeking relief from a judgment, states the following:
"On motion, with briefs, and upon such terms as are just, the court may relieve a party or the party's legal representative from a final judgment or order for the following reasons:
(a) mistake, inadvertence, surprise, or excusable neglect;
(b) newly discovered evidence which would probably alter the judgment or order and which by due diligence could not have been discovered in time to move for a new trial under R. 4:49;
(c) fraud (whether heretofore denominated intrinsic or extrinsic), misrepresentation, or other misconduct of an adverse party;
(d) the judgment or order is void;
(e) the judgment or order has been satisfied, released or discharged, or a prior judgment or order upon which it is based has been reversed or otherwise vacated, or it is no longer equitable that the judgment or order should have prospective application; or
(f) any other reason justifying relief from the operation of the judgment or order."
Rule 4:50-1 is designed to "reconcile the strong interests in finality of
judgments
and judicial efficiency with the equitable notion that courts should have authority to avoid an unjust result in any given case."
Baumann v. Marinaro
, 95 N.J. 380, 392 (1984).   Consequently, under
Rule
4:50-1, a litigant has one year from the date that a judgment is entered to move to vacate that judgment, provided that this motion to vacate a judgment is based on mistake, newly discovered evidence or fraud.  It is best to make the application as soon as possible.
When a court considers a motion to vacate a default judgment, such a motion must be "viewed with great liberality, and every reasonable ground for indulgence is tolerated to the end that a just result is reached." Marder v. Realty Constr. Co., 84 N.J. Super.313, 319 (App. Div.), aff'd, 43 N.J.508 (1964).   This is particularly true in the case of default judgments entered in family court because default judgments, as stated by the Appellate Division  are "not favored in divorce suits." Curry v. Curry, 108 N.J. Super.527, 530 (App. Div. 1970).
It is more difficult to vacate a divorce judgment after a signed settlement agreement has been entered into.  Marital agreements are presumed to be valid and the state has a public policy to enforce agreements entered into between divorcing spouses.   However, only those agreements that are "fair and just" will be enforced. Petersen v. Petersen, 85 N.J. 638, 642 (1981). A spousal agreement may be reformed when it is "unconscionable,"  or when "it is the product of fraud or overreaching by a party with power to take advantage of a confidential relationship," Dworkin v. Dworkin, 217 N.J. Super. 518, 523 (App.Div.1987), or when, due to "common mistake [ ] or mistake of one party accompanied by concealment of the other, the agreement fails to express the real intent of the parties".  Miller v. Miller, 160 N.J.  408, 419 (1999). Fraud and unconscionability have been recognized as two separate and independent bases for setting aside property settlement agreements. Massar v. Massar, 279 N.J. Super. 89, 93 (App.Div.1995).   If there are compelling circumstances, a judgment may be set aside based on a showing of inequity and unfairness under the catch-all section of R. 4:50-1(f).   Rosen v. Rosen, 225 N.J. Super. 33, 36 (App. Div.), certif. denied, 111 N.J. 649 (1988). To determine whether compelling circumstances are present, the court must look to the totality of the facts and on a case-by-case basis to determine whether enforcement of the judgment would be unjust, oppressive or inequitable. In re Guardianship of J.N.H., 172 N.J. 440, 473–74 (2002); Quagliato v. Bodner, 115 N.J. Super. 133, 138 (App. Div.1971).
If you find yourself in the process of an ending marriage, before rushing into anything or simply ignoring another spouse's attempt to divorce you, it would be wise to consult legal counsel before  a written agreement is signed or a judgment is entered in order to save yourself the time, headache and worry of having to try to fix a mistake later.   The office of James P. Yudes, P.C. can help you navigate the legal process required for doing so.