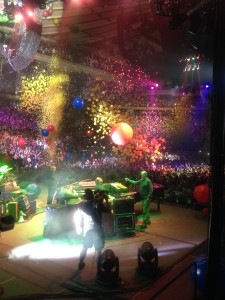 Parental disagreements as to a child's upbringing are probably about as old as humankind.  Nowhere are these conflicts more prevalent than in today's modern society where children are bombarded with content from the internet, television, phones and  computers.  Parents often disagree on what content is appropriate and inappropriate for their child to see and hear.  Rock and Roll has been a controversial subject dating back to the 1950s and remains one today.  While the burnings of records of the "Devil's Music" are no longer taking place on Main Streets across America, many parents still struggle with the idea that the content of the music of the pop stars that their young children idolize is not age appropriate for their child.  The concept is  nothing new and can become further complicated when the parents are divorced.
Recently, the Hon. L. R. Jones, J.S.C., of the Superior Court of New Jersey, addressed this issue in his written opinion in the case of Zoe v. Zoe FM-15-623-07N. (The footnotes of the opinion contain a wealth of information on rock and roll in pop culture throughout years including the fact that in the 1950's, Jersey City and Asbury Park, at one time actually banned rock concerts as contrary to the public's safety and welfare). The Zoe case involved a disagreement between the divorced parents of an eleven year old girl on whether it was appropriate for the mother to bring her daughter to see the pop star, P!nk, in concert. At the time, the parties were litigating the issue of physical custody of the child and her two younger brothers. Judge Jones, after reviewing the statements of both parents and conducting an interview with their eleven year old daughter, concluded the following:
Following divorce, each parent serving as a joint legal custodian generally has a right to exercise reasonable parental discretion over a child's activities while in his or her physical care, free from unreasonable interference, infringement, obstruction or attempted control by the other parent.
Each parent has a constitutional right to exercise reasonable parental discretion in introducing and exposing the child to works and performances of the creative arts.
While divorced parents may disagree on whether a child should or should not be exposed to certain works or performances of the creative arts, the court will generally not interfere with either parent's freedom of personal discretion on the issue, or hold same as evidence of improper or inferior parenting skills in custody litigation, unless the evidence reflects that the artistic work or performance is so objectively age-inappropriate that no reasonable person could rationally disagree on same.
Rock music is a valid and highly recognized form of creative artistic expression in the United States and world.
Defendant's decision to take the parties' daughter to the P!nk rock concert, during her own parenting time, was a reasonable and appropriate exercise of parental discretion.
Judge Jones reasoned that in the United States, a parent has a fundamental and constitutional right to make decisions regarding a child in his or her custody and care. See Stanley v. Illinois, 405 U.S. 645, 651 (1972). The Due Process Clause of the Fourteenth Amendment to the United States Constitution protects this right, which is one of the oldest fundamental and judicially recognized liberty interests in our nation. See Troxel v. Granville, 530 U.S. 57, 65-66 (2000). Hence, the court concluded that "[i]nherent in this right is the ability of a parent to exercise reasonable parental discretion on child-related choices without undue interference from the state."
Judge Jones aptly then went into an analysis of the greater public policy concern of each parent trying to micromanage the other parent's parenting time.  The court pointed out "[i]t is a virtual certainly that on nearly any motion day in any family court in New Jersey, the docket will include at least one case involving a parent critiquing and criticizing the other parent's decisions over some of the most basic elements of a child's everyday life, such as (1) what the child eats for lunch or dinner (pizza or fast food vs. "healthy" meals); (2) the child's style of clothes (grass-stained "dirty" jeans vs. "clean" or "presentable" pants ; (3) choice of movies and TV shows ("edgy" programs vs. "wholesome" family material), (4) choice of extracurricular activities (going to a baseball game or piano lessons vs. a relative's barbeque), (5) different curfews and bedtimes, and (6) other subjects generally tailored for individual parental discretion.
The court pointed that in situations where the parties are joint legal custodians, public policy encourages communication, cooperation, and hopefully a consistency between the parties on parental decisions. See Beck v. Beck, 86 N.J. 480,488 (1981); Grover v Terlaje, 379 N.J. Super 400, 406 (App. Div., 2005). See Hoefers v. Jones, 288 N.J. Super 590, 601 (Ch. Div., 1994).   Judge Jones pointed out the need for at the time of settlement a "joint custody agreement requires a common sense decision making process which frees the children from an ongoing web of parental deadlock and avoids 'the real-life impracticality of judicial tie-breaking and micro-family management.'" See Hoefers v. Jones, supra, 288 N.J. Super at 601-02.  In determining the appropriateness of the P!nk concert, the court pointed out that  "the touchtone of the court's jurisprudence is the safeguarding of a minor's welfare and happiness. A court may make such order respecting the care, custody, education and maintenance of the children as the circumstances of the parties and the nature of the case renders fit. See Henderson v. Henderson, 10 N.J. 390, 395 (1952). Parens Patriae is the power of the State of New Jersey by its judicial branch to protect and watch over the interests of children who are incapable of protecting themselves. In re Baby M, 217 N.J. Super 313, 324 (Ch. Div., 1987), rv'd on other grounds, sub.nom., Matter of Baby M, 109 N.J. 396 (1988).  The court further noted that "[t]his judicial authority to protect a child, however, must not be overly read and misinterpreted as an open invitation for a parent to come to court on 'best interests' grounds to unreasonably challenge, restrict or infringe upon the other parent's right to a certain degree of parental discretion during his or her own parenting time."
The court rejected the father's contention that the mother taking their eleven year old daughter to a P!nk concert showed a lack of parental discretion.  Judge Jones went so far in his analysis to take judicial notice pursuant to N.J.R.E. 201(b): "over the past sixty years, in the United States, rock has grown into one of the most popular, deeply engrained, and culturally significant forms of creative artistic expression in the history of the nation and world. People of all ages and backgrounds regularly listen to rock music for a multitude of reasons, including appreciation and enjoyment of the music, the lyrics, and the talents of the vocalists and musicians performing the songs. Many popular rock artists routinely sell out arenas and football stadiums within minutes after their concert tickets first go on sale. Further, and with the particular support of music video television programs and the internet, rock music has become not only an audio art form, but a highly visual art form as well. The court takes further judicial notice that historically, rock music has often involved socially controversial lyrics and themes, as well as what some people have at various times considered to be suggestive songs and performances. It is a matter of common knowledge that back in the 1950's and 60's, when rock music (then more commonly called rock and roll), was still in its relative infancy, millions of teens and pre-teens embraced this then-new style of music as not only exciting, but groundbreaking."
So what can a litigant do avoid the likelihood of having to be hauled back into court by an ex-spouse for these types of issues?  Judge Jones pointed out the need for at the time of settlement a "joint custody agreement requires a common sense decision making process which frees the children from an ongoing web of parental deadlock and avoids 'the real-life impracticality of judicial tie-breaking and micro-family management.'"