In a recently published trial court decision, Marsico-v-Marsico, the Honorable Lawrence R. Jones, J.S.C., dealt with the novel question of law as to whether or not a designated power of attorney could appear and testify on behalf of or in lieu of a divorce litigant.  After addressing this issue, Judge Jones ultimately decided that a power of attorney could not in fact appear and testify on behalf of a divorce litigant.  Judge Jones was able to delineate and distinguish the factual circumstances of prior case law wherein similar situations were allowed to proceed.  The primary basis for the Court's ruling in this matter was the fact that the defendant, Mr. Marsico, was never declared incompetent or otherwise unable to attend to his own affairs, despite his old age.  In support of the Court's decision, Judge Jones cites to the importance of testimony in divorce litigation, as the fact-finding process "involves a focus on otherwise private issues, dealings, and communications between spouses within the family structure."  By allowing such a procedure, the Court warns about the possibility of rampant and serious  problems due to parties taking advantage of this rule and the very real possibility of "misuse by parties who seek to employ such a strategy for inappropriate and improper purposes that are obstructive to the fact finding process."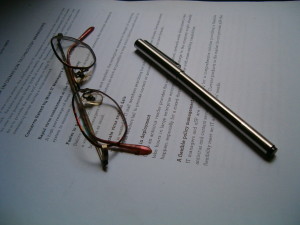 In this particular case, the parties were both in their eighties and had no children together.  The defendant did have an adult daughter from a prior relationship, whom he ultimately named as his "true and lawful attorney in fact."  The defendant specifically authorized his daughter to "institute, prosecute, and defend any actions or proceedings brought in any court."  Based upon the novelty of this issue, both parties stipulated to the fact that no New Jersey case law was found that would be considered on point with this particular issue.  The Court's ultimate decision found that a competent party may not designate another person to testify in his or her place without the consent of the other party or by way of Court Order.  Judge Jones placed emphasis on the fact that a "court cannot and should not ever presume that just because a party is elderly, he or she is unable to appear in court, or read and understand legal papers, or otherwise function independently."  (citing State v. R.W., 104 N.J. 14, 21-22 (1986)(improper to order a psychiatric examination based solely on age of witness).
Furthermore, the Court specifically discussed the preferable alternatives, such as a video deposition, even if it were ultimately determined that an individual was physically unable to appear in Court but had the mental capacity to do testify.  In addition, the Court referenced and discussed the potential for seeking and utilizing the services of a Guardian Ad Litem (GAL), in lieu of a power of attorney.  Even still, the Court raised concern with the use of the defendant's adult child in such capacity based upon her potential conflict by having a pecuniary interest in the defendant retaining as much of the marital estate as possible because she is a potential heir.  In that situation, the Court acknowledged that a hearing would need to be held to determine if her continuance in the matter would be warranted and allowable.  Based upon all of the above, it is clear from the Court's ruling that some sort of infirmity or inability to testify needs to be shown and proven before the Courts would even consider allowing a power of attorney to appear and testify on behalf of a divorce litigant.  Even if such proofs are provided, it still appears the Court would likely look to other avenues and would only consider this alternative in a worst case scenario.